Microscopic mold spores exist almost everywhere, outdoors and indoors, making it seem impossible to remove all mold from a home or business. Consider the following mold facts:
---

Mold spores are microscopic and float in the air. Spores can enter your home though windows, doors, AC/heating systems, or even on clothing or a pet.
---

Mold grows and flourishes on damp and humid organic surfaces that include household areas like drywall, wood framing members, wallpaper, wall paints, carpet, etc.
---

Mold spores thrive on moisture and can quickly grow into colonies when exposed to water.

---

Before mold remediation can begin, any source of water must be addressed, otherwise the mold will return.
---

Mold often produces a strong, musty odor that can lead you to possible mold problem areas.

---

Higher than normal indoor humidity can produce mold growth. It is ideal to keep indoor humidity below 45%.
---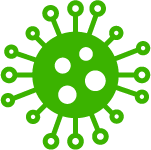 Color of the mold is not an indication of how dangerous the mold is. If you see any type of mold in your property, no matter the color, it needs to be removed promptly.
---
If you believe that you have a mold issue, you probably also have a moisture problem that needs to be addressed immediately. Our Institute of Inspection Cleaning and Restoration Certification water damage certified specialists will immediately address mold issues and attempt to prevent mold before it occurs.